Contract Furniture for Healthcare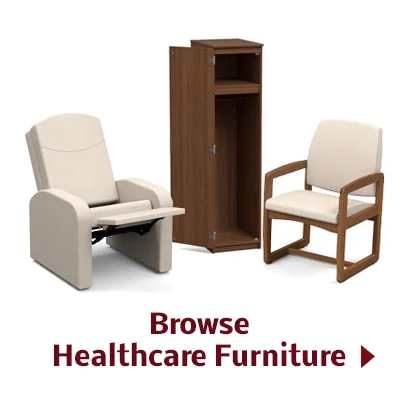 Furniture for Hospitals, Doctors' Offices, Medical Facilities & More
At Blockhouse, we design, manufacture and install smart, customizable, contract furniture to meet the unique needs of a variety of healthcare applications, including hospitals, medical complexes, physicians' offices and other similar environments.
From waiting rooms, lobbies and public spaces to patient rooms and staff areas, our furnishings are functional, comfortable, durable and built to last for years. What's more, we can work with you to design a custom piece to meet your specific requirements. If you're looking to add function and comfort to your healthcare facility, our team is standing by to help.
Blockhouse furniture is customizable and includes patented innovations that extend the life of your furnishings even in busy, high-use environments. Thanks to Key- Loc cushions, replaceable component parts and materials that can be easily cleaned and disinfected, our products help organizations reduce costs and extend the life of their investment.
When it comes to durable, long-lasting contract furniture for healthcare applications, our products offer the perfect balance between comfort and durability. Not only do they withstand heavy wear-and-tear and offer easy cleaning, they are purpose-built to meet your facility's unique needs – no matter what the space you're looking to furnish.
Furniture Features
Extreme Durability
Designed for Easy Cleaning
Purpose-Built for Heavy Wear-and-Tear
Designed for High-Use Environments
Modular, Easy-to-Replace Components
Key-Loc Cushion System
Customizable, Familiar, Comfortable
And More, Request a Consultation
Furniture Solutions
Furniture for Hospitals
Furniture for Doctors' Offices
Furniture for Medical Complexes
Furniture for Waiting Rooms
Furniture for Lobbies
Furniture for Public Spaces
Furniture for Patient Rooms
Furniture for Staff Areas
And More, Request a Consultation
Furniture Services
Space Planning & Design
Furniture Specification
Furniture Customization
Furniture Planning & Budgeting
Bulk Manufacturing
Delivery
Installation
Bolt-Down
And More, Request a Consultation
As a true partner who understands the unique needs of healthcare organizations, we look forward to helping you design, specify, customize and install your next furniture order.
Explore our catalog of contract furniture for healthcare below, and contact us today to request pricing. We look forward to hearing from you.