Upholsterer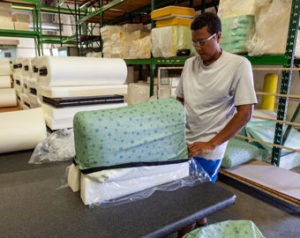 Do you have a passion for working with a variety of heavy fabric and vinyl textiles? If so, this may be the position for you. Upholsterers serve a critical role at Blockhouse and directly impact the quality of our products. In this role, you'll have the ability to display your individuality by focusing on the details of a finished commercial furniture piece.
This is your chance to show your quality craftsmanship and to have a hand in the success of our commercial furniture lines within fields like:
Healthcare
Higher Education
Government
Behavioral Health
And More
Be a Trusted Provider
This position is not just for skilled upholsterers, it's for solution-makers. Our furniture is designed to deliver more than just a place to rest, sit, or store items. You'll be contributing to a team that's passionate about making people's lives easier and directly contribute to creating comfortable, quality furniture that lasts.
We're looking for upholsterers who have:
Experience working with heavy fabrics and vinyl
A strong eye for detail
An appreciation for quality workmanship
A friendly, positive attitude
A Career at Blockhouse? Yes, Please!
Are you ready to start your career at Blockhouse and be part of our family? If so, fill out our short form below and submit your resume. We look forward to speaking with you about our company and the value you can add.
Download the Blockhouse Employment Application (PDF)