Upholsterer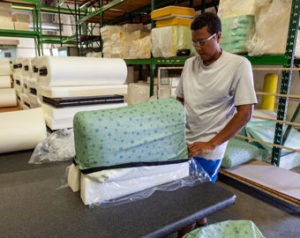 Do you have a passion for working with a variety of heavy fabric and vinyl textiles? If so, this may be the position for you. Upholsterers serve a critical role at Blockhouse and directly impact the quality of our products. In this role, you'll have the ability to display your individuality by focusing on the details of a finished commercial furniture piece.
This is your chance to show your quality craftsmanship and to have a hand in the success of our commercial furniture lines within fields like:
Healthcare
Higher Education
Government
Behavioral Health
And More
Be a Trusted Provider
This position is not just for skilled upholsterers, it's for solution-makers. Our furniture is designed to deliver more than just a place to rest, sit, or store items. You'll be contributing to a team that's passionate about making people's lives easier and directly contribute to creating comfortable, quality furniture that lasts.
We're looking for upholsterers who have:
Experience working with heavy fabrics and vinyl
A strong eye for detail
An appreciation for quality workmanship
A friendly, positive attitude
Continue below to fill out an application and apply today. We appreciate your interest in Blockhouse!
---
Submit Your Application & Resume Below
Download the Blockhouse Employment Application (PDF) and submit using the form below.
"*" indicates required fields