Higher Education & Residence Hall Furniture
Furniture for Colleges, Universities, Student Housing & More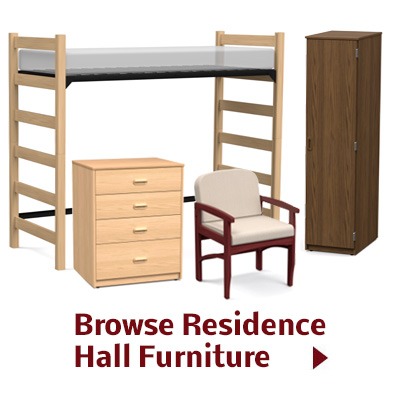 At Blockhouse, we design, manufacture and install durable, long-lasting and high-quality contract furniture for a variety of higher education institutions and applications, including universities, colleges, residence halls and beyond.
From lounges and libraries to lobbies and waiting areas, our customizable contract furniture adds comfort, function and that familiar homelike feeling to the academic experience.
Our innovative products are specifically designed for high-use environments in which furniture must perform at its best for years to come. And, thanks to our modular, easy-to-replace components, patented Key-Loc cushion system, bed bug barrier system, and 3-in-1 space-saving options, we'll help you maximize the return on your furniture investment.
When it comes to high-quality furniture for higher education settings, our products can help you find the perfect balance between durability and comfort. They'll hold up to years of all-nighters, resist damage and provide a comfortable environment to help students perform their best.

SaveSave
Furniture Features
Extreme Durability
3-in-1 Space-Saving Options
Bed Bug Barrier System
Tamper-Resistant Components
Designed for High-Use Environments
Modular, Easy-to-Replace Components
Key-Loc Cushion System
Customizable, Familiar, Comfortable
And More, Request a Consultation
Furniture Solutions
Furniture for Universities
Furniture for Colleges
Furniture for Residence Halls
Furniture for Student Lounges
Furniture for Libraries
Furniture for Common Areas
Furniture for Dining Halls
Furniture for Student Living
And More, Request a Consultation
Furniture Services
Space Planning & Design
Furniture Specification
Furniture Customization
Furniture Planning & Budgeting
Bulk Manufacturing
Delivery
Installation
Set-Up
And More, Request a Consultation
If you're looking for new contract furniture for any higher education application, we look forward to working with you to customize, build and install your order to your specifications from the first consultation to the final installation.
Explore more information on our contract furniture for higher education applications below, and contact us today to request pricing. We look forward to hearing from you.