Behavioral & Mental Health Furniture
Furniture for Mental Health, Behavioral Treatment, Substance Abuse & More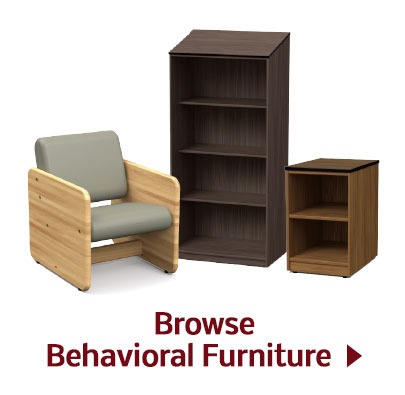 Our innovative contract furniture for behavioral markets is designed to meet the demands of mental health facilities, group homes, corrections facilities, or any application where safety and security are a top priority. Best of all, our products are comfortable and customizable in addition to safe.
Blockhouse furnishings are specifically designed for high-impact environments, where wear and tear can be extreme, and where both patient and staff safety is important.
Our furniture has been intentionally designed to resist damage, it hinders disassembly without specialized tooling, it's difficult to climb, and it limits the ability to hide contraband. Above all else, it's constructed of high-quality materials that will last for many years even under high-stress conditions – helping you reduce costs over time.

SaveSave
Furniture Features
Designed for Safety & Comfort
Ligature Resistant
Tamper Resistant
Easy to Clean & Disinfect
Extreme Durability
Replaceable Cushions & Component Parts
Bed Bug Barrier System
Comfortable, Familiar, Customizable
And More, Request a Consultation
Furniture Solutions
Furniture for Mental Health Centers
Furniture for Behavioral Health Facilities
Furniture for Drug Treatment Centers
Furniture for Dual-Diagnosis Facilities
Furniture for Transitional Living Centers
Furniture for Halfway Houses
Furniture for Correctional Facilities
And More, Request a Consultation
Furniture Services
Space Planning & Design
Furniture Specification
Furniture Customization
Furniture Planning & Budgeting
Bulk Manufacturing
Delivery
Installation
Bolt-Down
And More, Request a Consultation
If you're responsible for designing or specifying furniture for behavioral applications, we look forward to partnering with you to customize, manufacture and install your order from initial design to final bolt-down.
Explore our catalog of contract furniture for behavioral applications below, and contact us today to request pricing. We look forward to hearing from you.