Contract Furniture Buyer's Guide
Learn How to Make the Most of Your Investment
With a wide variety of furniture options to choose from, how can you be sure you're investing in the right furniture for your facility? Download our Contract Furniture Buyer's Guide to learn just what to look for!
In this informative 16-page downloadable booklet, we'll review ten important considerations that will help you choose wisely. We'll cover construction methods, safety features, specific use cases, and how to save money in the long run. In short, the Buyer's Guide will arm you with the info you need to make the best furniture choices.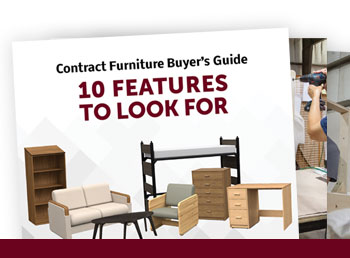 Simply fill out the form below to access the download. We won't share your information with any third parties and there's no hard sell, just a free download that will help you choose the best furnishings for your facility.