Psych-Safe Furniture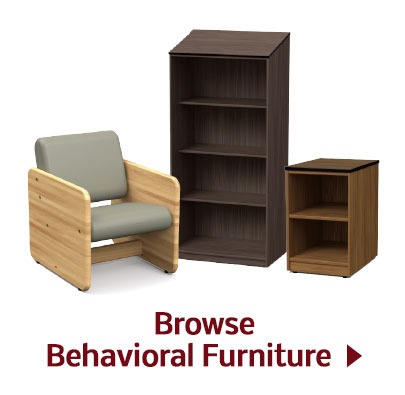 Furniture That Keeps Patients & Staff Safer in Behavioral Health Facilities
Every piece of furniture in your facility needs to be durable and able to hold up to wear and tear, even in the harshest environments. However, the needs of behavioral health facilities and mental health treatment centers require features that go far beyond durability. Behavioral health furniture should also be 'psych-safe,' meaning it should be designed to protect the safety and wellbeing of residents and staff.
What is Psych-Safe Furniture?
Psych-safe furniture is furniture designed specifically for the demands of behavioral health facilities. Specifically, furniture pieces that a patient can't use to intentionally harm themselves or others. Every facility has slightly different needs, but for a bed, wardrobe, chair or desk to be truly psych-safe, it must exhibit specific safety features that will keep even the highest-risk patients safe.
At Blockhouse, we have been manufacturing psych-safe furniture for decades, so we know how to design pieces that will keep patients, staff and visitors alike safe. Read on for a few key features to look for in psych-safe behavioral health furniture.
Durability & Tamper Resistance
Furniture that is not specifically designed for behavioral and mental health facilities is often easy to disassemble and doesn't hold up over time. And this poses a risk when residents may wish to harm themselves or staff. That's why tamper-resistance is a key component of psych-safe furniture. At Blockhouse, our furniture is built with tamper-resistant hardware that requires specialized tooling to disassemble. It is built solidly, with glued and dowelled joints that are difficult to break. When combined with the other features listed below, this makes for furniture that is safe in just about any type of mental health environment.
Ligature Resistance
With patient and staff safety as a top priority at Blockhouse, manufacturing ligature-resistant behavioral health furniture is one of the many ways our furniture solutions keep patients safe. In fact, we recently introduced our new Enclosed Chairs, a series of ligature-resistant chairs designed specifically for behavioral health facilities.
Prevents Contraband
At Blockhouse, each of our psych-safe furniture pieces hinders a patient's ability to hide contraband. Many of our beds, chairs and other behavioral health furniture pieces are constructed as one solid unit without slots or hidden areas for stowing contraband. They feature open cubbies or shelves, slanted tops, and other features that make it difficult to hide something.
Bolt-Down Options
In many high-risk behavioral health facilities, furniture that's bolted to the floor or wall is a major need in order to keep patients safe. Keeping furniture in its place is one way to dramatically reduce a patient's ability to hurt themselves or others. At Blockhouse, we offer bolt-down installation options to give you and your staff the peace-of-mind of knowing that furniture can't be moved or used as a weapon.
Inhibits Climbing
Bolting down behavioral health furniture still isn't enough when you need to make your facility truly psych-safe. Taller pieces such as wardrobes and shelving units can benefit from recessed shelves, sloped tops, and other features that make furniture difficult to climb. True psych-safe contract furniture makes climbing difficult, nearly eliminating this serious safety risk. At Blockhouse, we design our psych-safe furniture to inhibit a patient's ability to climb so it's not used to cause harm to themselves or any staff member.
Ensure You're Specifying High-Quality Psych-Safe Furniture by Working with an Experienced Contract Furniture Manufacturer
Our team at Blockhouse has been designing and manufacturing psych-safe contract furniture for decades. Leading behavioral health facilities trust us to keep their patients and staff safe with high-quality furniture that accounts for all five of these primary psych-safe features, and more.
When you're ready to find safe, durable behavioral health furniture, contact us. Our team is here and ready to help you select the best psych-safe furniture for your facility.
SaveSave
SaveSave