Ligature-Resistant Furniture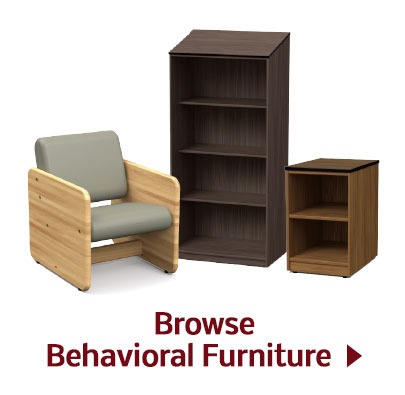 Anti-Ligature Furniture & Ligature-Resistant Furniture for Mental Health Treatment
Today's hospitals, treatment centers, and behavioral health centers are looking for ways to remove ligature points in patient rooms in the hopes of removing opportunities for patient self-harm. And, behavioral health furniture manufacturers like Blockhouse are answering the call by developing high-quality, ligature-resistant furniture that makes behavioral health facilities safer for everyone.
This means designing pieces that are comfortable and familiar, but that also maximize safety for distressed patients. Stackable chairs, sharp desk corners, and tall, unstable wardrobes all contribute unsafe patient rooms, and that's why our behavioral health furniture is designed with ligature-resistance in mind.
What Defines Ligature-Resistant Furniture or Anti-Ligature Furniture?
Ligature-resistant furniture is mental health furniture that's been designed to minimize ligature points that could be used to cause self-harm. If there's a feature of a chair or desk that a patient could use to harm themselves, that feature is considered a ligature point. This could include the sharp corners of a table or the arms of a chair that a bed sheet could wrap around.
While there is currently no industry standard for ligature-resistant furniture, and no furniture is truly anti-ligature in a behavioral health setting, we've worked with healthcare designers and facility managers to understand their ligature-resistance needs and construct our mental health furniture to drastically reduce the likelihood of it being used to cause harm.
At Blockhouse, our anti-ligature furniture pieces include:
Minimal overhangs to reduce ligature points
Minimal sharp corners or edges to reduce harm
Enclosed bases and sides that eliminate ligature points
Open shelving and slanted tops that prevent hiding places
Bolt-down options that to prevent moving installed furniture
And more, request a consultation for info
Ensure Your Behavioral Health Furniture is Ligature-Resistant to Keep Patients Protected
It's not always easy to determine if a chair, bed, wardrobe or dresser is ligature-resistant and safe for your patients. When you're ready to learn more about ligature-resistance, contact us. We'll discuss your furniture needs and find the right ligature-resistant furniture for your facility.