Higher Education Furniture for Any Space
Customizable, Long-Lasting, Student Housing Furniture for Residence Halls & Beyond
When searching for contract furniture for higher education, it's important to remember that you don't need to sacrifice durability for comfort. In fact, you should feel confident that the furniture you select not only creates a warm, homelike feeling but that it is also designed to last for decades — not semesters. Therefore, it's important to work with a higher education furniture manufacturer who can partner with you to deliver high-quality, durable and comfortable furniture specifically for high-use campus environments.
At Blockhouse, we've been manufacturing higher education furniture for decades, and academic institutions of all shapes and sizes trust us to keep their students, visitors and staff comfortable. When wear is constant and furniture is put to the test day in and day out, we can work with you to design and install furnishings that will last for any space on campus.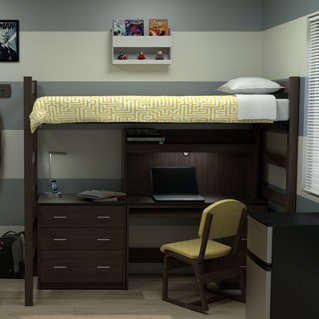 Dorm Room Furniture
Students spend more time in their dorm rooms than anywhere else on campus, which is why dorm room furniture must be durable enough to stand up to heavy daily use. Not only are our dressers, desks and beds designed for the unique demands of student living with features like space-saving designs, bunkable beds and 3-in-1 options, but they also provide you peace of mind in knowing that your students are living in a comfortable, homelike environment.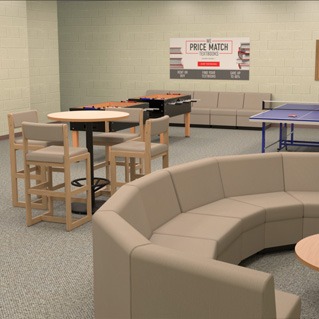 Lounge Furniture
When furnishing lounges in your residence halls or dormitories, it's important to invest in contract furniture such as tables, chairs and sofas that are designed for heavy day-to-day use without sacrificing comfort or durability. After all, it's guaranteed that these pieces are sure to see many late-night study sessions! At Blockhouse, we manufacture contract furniture that is designed to be sturdy and hold up to years of all-nighters while helping you maximize ROI on your furniture investment.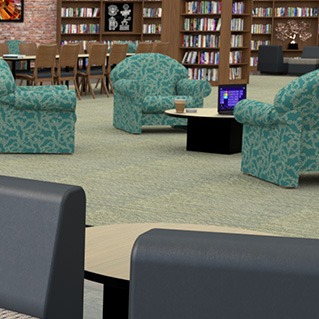 Library Furniture
Because the quiet study corners within the library are designed specifically for student learning, they need to provide an effective and comfortable working environment. At Blockhouse, we'll work with you to customize furniture pieces to meet your needs with features that enable learning and today's technology. For example, USB ports and power outlets built into furnishings ensure that student research is always fully powered.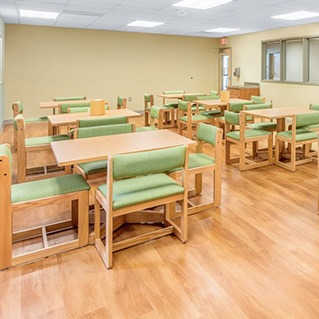 Dining Hall Furniture
Dining halls host thousands of students every day and are subject to a significant amount of wear-and-tear. With three meals a day seven days a week, durable dining hall furniture that stands up to ongoing cleaning is a must. At Blockhouse, we offer modern furniture options that allow you to keep your campus cafes and dining halls feeling comfortable and looking stylish — without sacrificing quality. Semester after semester, meal after meal, our dining hall furniture is designed and manufactured to hold up for decades, not semesters.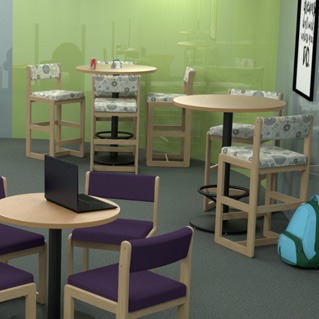 Lobby Furniture
Lobbies and waiting rooms see significant traffic from students, visitors and their families each day, so it's important to invest in durable contract furniture for these spaces that can be customized to suit any style. Lobbies are also one of the first areas visitors will see as they visit your campus, so comfortable yet aesthetically appealing furniture is a must. We are happy to work with you to help you customize lobby furniture that brings together comfort, durability and modern design that will create a great first impression.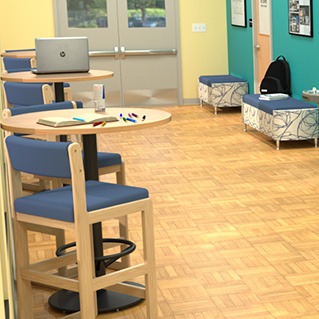 Common Area Furniture
When your students fall in love with the feel of your campus, you'll ultimately see acquisition and retention rise, which boosts your bottom line. Therefore, investing in well-designed, comfortable and durable furniture for common areas can help to showcase the style and personality of your campus, encourage communication, and function as a go-to gathering place. With hundreds of options, multiple finishes and wood stains, as well as thousands of designer fabric options, we can deliver comfortable, durable furniture that makes your common areas shine.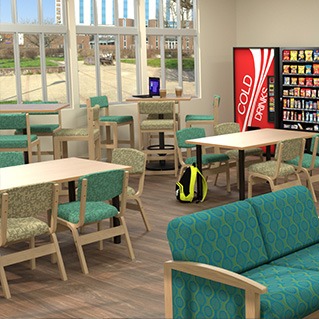 And Beyond
From dressers, desks and beds to chairs, tables, sofas and more, Blockhouse is committed to providing customizable, durable and long-lasting contract furniture for a variety of higher education applications. Since we have the tools, experience and knowledge to create a full range of furniture, we are happy to help you design and customize any space, turning the dull, drab and dreary into warm, inviting, homelike spaces.


If you're looking for long-lasting and durable contract furniture for your higher education institution, we are committed to helping you decorate and furnish each space to create a comfortable, homelike environment. We work with trade schools, universities, colleges and other higher education institutions to design, manufacture and install contract furniture that fits any space. Contact our friendly team today to learn more. We look forward to hearing from you!