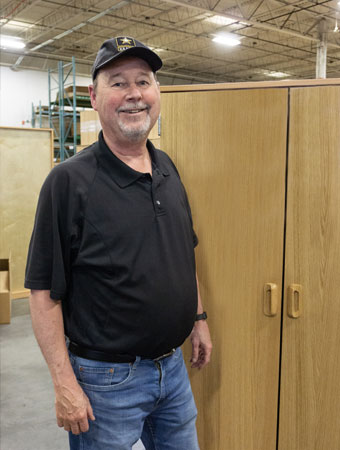 As a leading manufacturer of contract furniture for higher education environments, we're always looking for ways to better serve college administrators, facility managers and residence life directors. And in keeping with this goal, we are proud to have created a new position on the Blockhouse team for industry veteran Todd Duncan as our new Director of Higher Education.
Todd brings a wealth of expertise to our team thanks to his decades of experience as a 4-time Director of Housing and Residence Life and university administrator. During his career, Todd has overseen the expansion of housing and food service infrastructure at a number of campuses, in some cases more than doubling the available facilities for students and staff.
Most recently Todd served as Sr. Associate Vice President of Campus Services at University of Cincinnati, and he is a former recipient of the Certified Auxiliary Services Professional (CASP) designation from the National Association of College Auxiliary Services (NACAS).
We sat down with Todd for a Q 'n' A to discuss his background and his goals for this new role at Blockhouse. We hope you will join us in welcoming Todd to the team, and we look forward to putting his expertise in designing and furnishing campus spaces to work for you!
Welcome, Todd! What brings you to the furniture industry after such a distinguished career as an administrator?
Thank you! Many of my friends and colleagues might not know this, but I've worked on building design, space planning, and even furniture design projects throughout my career, and I love it. In fact, my first new construction product was in 1995. I've had responsibilities that included student housing, food, retail, and more, and I have helped a number of schools keep pace with aggressive growth by expanding their housing and food service infrastructure. So, I've been designing spaces, specifying furniture and overseeing campus facilities for decades. Joining a top furniture manufacturer with deep roots in higher education seemed like a great next step!
What do you love most about your work in higher education?
It's interesting, furniture design and selection was always a part of the projects I handled, and it was always one aspect of a project that could really make or break the outcome. When a project is completed, and students finally arrive, it's exciting to see their reaction to and interaction with a well-designed space with comfortable furnishings. It can really elevate their experience on campus.
I love that process of creating welcoming, comfortable spaces for students. I have worked at big universities, small colleges, rural schools, urban schools, you name it. But ultimately, that feeling of creating a great physical environment where students, staff and university guests can truly be at their best is something I really love.
When did you first learn about Blockhouse furniture for higher education?
I've worked with Blockhouse furniture for decades, specifying it, purchasing it, maintaining it, and more. I've been a customer for a long time, and as a college administrator I know how great Blockhouse products are. Cost is always a huge factor when purchasing furniture, but with Blockhouse I learned that durability and quality can save a substantial amount of money over time. And that meant when purchasing Blockhouse, I was always confident my successors would be pleased too!
I've put Blockhouse furniture in a number of campus settings, from dorm rooms to lounges to libraries to food service areas, and more, and it has always been comfortable and long-lasting. In fact, I recall that our costs over time were always far lower with Blockhouse furnishings because we didn't have to replace them. The pieces would last for decades. And it looks great, it's comfortable, students love it, so it's definitely a win, win, win proposition.
So as a school administrator you appreciated the longevity of Blockhouse furniture?
It's the total package. This furniture is comfortable and stylish, so students love it, and it is some of the most durable furniture you can buy. So that means administrators love it too, because repair and replacement costs get pushed out dramatically. Sometimes decades. And that's definitely a huge cost savings over time, and a great hedge against inflation especially in today's economic climate. I saw this first hand throughout my career. An investment in quality always paid off in the long run. Every single time.
Do you have a favorite furniture project, that you recall?
I've been involved in so many and they're all favorites! If I had to choose, I would say that one of the first Blockhouse projects I was involved with was when I had an idea for furniture pieces that could help maximize space in residence hall rooms. I came to Blockhouse to develop this idea, and we worked together to design what is now the C9 Space-Saver line. The idea originated with student feedback that because they were mostly working on their laptops, they didn't feel they needed a desk. They wanted more floorspace instead. These C9 pieces are now used by students nationwide. And it all came from a great relationship with a vendor who was willing to work with us and listen to us and design something that would help solve our challenge. That's Blockhouse in a nutshell!
And this is really what I'm looking forward to most in this new role here at Blockhouse. The great thing about Blockhouse is that we don't want to just ship you furniture. We want to partner with you, and understand your needs, challenges and opportunities. We want to deliver the perfect solution for you. Reduce your stress, and take ownership of our work. It's a collaboration, and I love that approach. Collaboration and service are baked into what we do here, and that's what made me jump at the chance to join the Blockhouse team.
What's next now that you're officially on board?
I'm looking forward to collaborating with colleagues old and new across the country, to help them create great, comfortable, long-lasting spaces for their students and staff. I'll be getting out there visiting campuses, and participating in industry associations and events. And quite frankly, I'm excited to explore new ways to help administrators make the most of their furniture investment. I've been doing this for so long, I know how to help college administrators get a handle on their furniture challenges and solve them for good. Plus, I just love to help, it's in my nature. I've had great ride so far, and this is the start of a great new partnership. I can't wait to see where it goes!
If you're interested in discussing your furniture challenges with Todd Duncan, contact us today. Todd and the rest of the Blockhouse team are standing by to discuss your needs and develop creative solutions. We look forward to hearing from you!