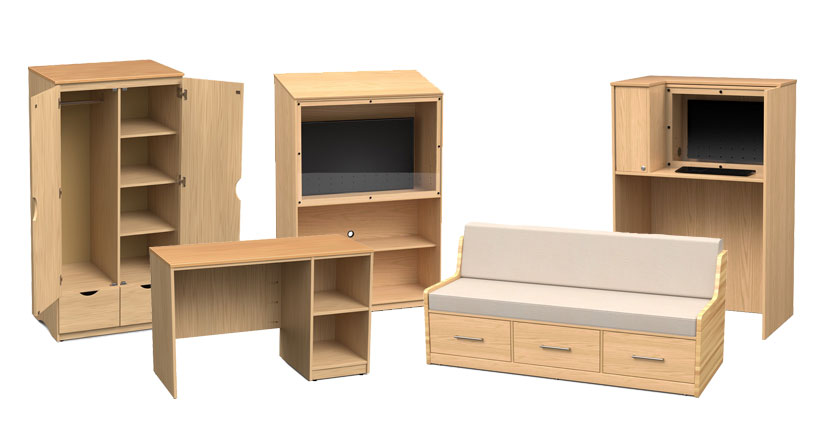 When it comes to furnishing education facilities, it can sometimes be hard to find the specific pieces you need to maximize form, function and style for students and staff. Luckily, with Blockhouse custom contract furniture, you're not bound by off-the-shelf pieces. In fact, furniture customization at the scale you need is one of our specialties.
From gaining unique functionality, to coordinating with a wide range of design styles, to maximizing long-term ROI, our custom contract furniture can take your organization to the next level while helping you save money in the long run.
Thanks to our in-house designers, experienced support staff, and Pennsylvania-based manufacturing facility, we can build the custom furniture you need specifically for your organization without sacrificing quality. Keep reading to see how our custom contract furniture solutions can benefit your higher education organization and contact us today to discuss your custom furniture needs!
Gain Specific Size or Functionality
If you need a specific size or have specific functionality in mind, but can't find an off-the-shelf furniture piece that will work, consider a custom solution. Our designers can listen to your ideas, help you concept pieces that will work in your unique situation, and customize designs to exactly suit your needs.
Best of all, since we have all of our manufacturing in-house, we can manufacture completely custom pieces at quantity, while maintaining full control over the process. This allows us to create specific pieces at scale, while maintaining a high level of quality and durability that will help you reduce costs over time. Interestingly enough, some of our most popular furniture pieces – such as our Space-Saver line – were born from custom designs when our customers brought us a challenge and our designers helped solve it.
Coordinate With Your Style
Designing a space involves so much more than choosing a piece of furniture that appeals to you. From finishes to upholstery to shapes and overall styles, we can design custom pieces that will feel right at home in any facility. Whether you're looking for modern, minimalistic, retro or classic, we can create the look you're going for when you can't find it anywhere else. Thanks to a wide range of materials to choose from, in-house designers, and the latest CNC manufacturing machinery, we can bring just about any design style to life in the form of durable, comfortable furniture at the quantity your organization needs.
Save Money Over Time
Blockhouse furniture is known for durability – and that means saving you money over time. Our custom contract furniture is no different. Gone are the days of replacing furniture after only a year or two, when wear-and-tear from rigorous cleaning, heavy use and busy environments sets in. If you have a durability challenge, we can most likely help you solve it. If you bring us your common failure issues, we'll see what our team can do to eliminate them.
Built from domestically-sourced materials that will last decades, not years, our custom contract seating allows for the easy replacement of components and includes our patented Key-Loc cushion technology so that you can easily swap covers or flip cushions. Best of all, by investing in custom-manufactured furniture that eliminates failure points, your organization can reduce the need to budget for replacements year after year.
Ready to Learn More?
At Blockhouse, we're there for you from design through delivery. Whether you have an idea in mind for your lobby, lounge, residence hall room, or something else, contact us today to speak to our team about developing a custom solution. We're standing by to answer your questions and help you design the right furniture for your specific application. We look forward to connecting with you!