Recently, the line between residential and commercial furniture has become progressively blurry. Home-inspired, welcoming and comfortable spaces have become the "new normal" in a variety of settings. In fact, organizations such as government facilities, acute healthcare or behavioral health centers, and higher education facilities continue to transform their cold, unwelcoming and institutional rooms into spaces that are comfortable, soothing and visually appealing for all who walk through their doors. With smart, thoughtful furniture planning, you, too, can create the familiar feeling of home — without sacrificing durability or ROI.
At Blockhouse, we work with all types of facilities to provide welcoming, peaceful, homelike contract furniture that is built to last for years to come. From warm, natural wood tones that match your design aesthetic to colorful, eye-catching upholstery, we steer away from the "institutional" vibe and instead offer pieces that have a familiar, comforting look and feel. Keep reading to learn how we can help you create and maintain a modern, comfortable, homelike environment throughout your facility!
Go For Comfortable Furniture to Encourage Rest and Relaxation
Whether a patient is sitting nervously in a waiting room, awaiting a procedure or a student is resting in their dorm room, mentally preparing for an upcoming test, it's important that the space — and the furniture — is cozy and comfortable. That's why at Blockhouse, we offer many customizable options to make sure the contract furniture you choose creates a warm, relaxing feeling of home.
From plush upholstery and soft fabrics to smooth, rounded surfaces, we design and manufacture furniture that encourages peacefulness, rest and relaxation throughout your facility. Whether you have a specific design in mind or you need assistance in selecting the best furniture for your particular space, our team can help ensure your patrons, patients and employees are comfy and cozy at all times.
Choose Colorful Furniture to Reduce Anxiety and Give Your Space a New Look
Regardless of the type of facility you'd like to furnish, there may be situations when anxiety and stress abound in your spaces. From government facilities and residential facilities, to healthcare waiting areas and exam rooms, chances are you have one or more areas that could benefit from a stress-reducing look.
Opting for eye-catching, bright upholstery in blues, greens and purples can reduce anxiety while also creating a comforting, residential-like feel. At Blockhouse, our modern wood finishes and sleek designs work together to give off an inviting, warm touch and a sense of the familiar. Keep in mind that there is no one-size-fits-all plan, so it's important to work with a contract furniture supplier who can help you select the best style for your space. From behavioral health facilities: to office lobbies, from dormitories to hospital rooms, we have multiple furniture styles and upholstery options that will create a calming atmosphere.
Invest in Durable Furniture to Increase Longevity and Boost Your ROI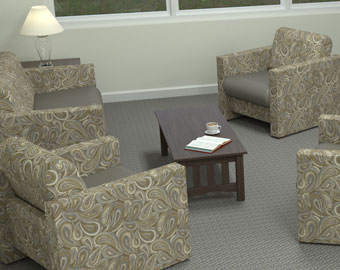 No matter what type of facility you're furnishing, remember that durability and comfort are not mutually exclusive. You can achieve high-quality, long-lasting furniture that's purpose-built for your particular environment without sacrificing a homelike atmosphere. In addition to being comfortable and visually appealing, make sure the pieces you select are manufactured with durable finishes that can withstand constant use, frequent cleaning or sometimes-extreme environments.
Whether it's a waiting room, living quarters, inpatient housing or a lounge, here at Blockhouse, we can help you create a comfortable, welcoming environment for your team, patients, visitors and others. Our contract furniture is specifically built to last using hard, high-quality woods, but we can also assist with repair or replacement later down the road should you need it.
Opt For Smartly Designed Furniture to Ensure Safety Throughout Your Facility
Whether you're in healthcare, higher education, government or any other setting that uses waiting rooms, sitting areas, sleeping rooms or lounges, you need to make sure that everyone who walks through your door is not only comfortable but also as safe as possible. When you work with the team at Blockhouse, you can rest assured that our furniture is specifically built for safety — thanks to our smartly designed, tamper- and ligature-resistant pieces.
From wardrobes that feature open shelves to prevent concealing contraband and angled tops to ward off climbing, to beds and chairs that can be secured to prevent accidental or purposeful movement, our furniture is designed for safety and functionality in all types of low- and high impact environments. If you're unsure as to whether a piece will work for your type of facility, let our team help guide you through the process and make your organization as safe and comfortable as possible.
Ready to Learn More?
At Blockhouse, our professional, experienced team can design and manufacture durable, long lasting and aesthetically pleasing contract furniture for a wide range of applications. From government facilities to behavioral health settings, to residence halls and beyond, Blockhouse will help you maximize the value of your furniture investment without sacrificing comfort. Contact us today to learn more and speak with our friendly team about your organization's furniture needs. We look forward to hearing from you!