Industrial Sewing Machine Operator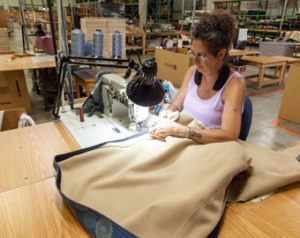 An enthusiasm and love for sewing, effective communication skills, and a positive, friendly attitude are all critical to the success of our industrial sewing machine team. If you have these qualities and then some, we should talk! Now's your chance to shine and show-off your skilled workmanship while becoming part of the Blockhouse family.
Your masterful sewing talent is needed to work with upholstery-weighted fabrics for a variety of furniture pieces. As an industrial sewing machine operator, you'll have a hand in the success of our commercial furniture lines in fields like:
Healthcare
Higher Education
Government
Behavioral Health
And More
Be a Trusted Provider
We're not just looking for an industrial sewing machine operator. We want a solution-maker. Our furniture is designed to deliver more than just a place to rest, sit, or store items. You'll be contributing to a team who's passionate about making people's lives easier and more comfortable with quality furniture that lasts.
The ideal industrial sewing machine operator should have:
The ability to work independently
Effective communication skills
Ability to work as part of a team within other departments at times when sewing demand decreases
Experience working with heavy fabrics and vinyl (not required, but a definite plus)
A friendly, positive attitude
Continue below to fill out an application and apply today. We appreciate your interest in Blockhouse!
---
Submit Your Application & Resume Below
Download the Blockhouse Employment Application (PDF) and submit using the form below.
"*" indicates required fields