Students today expect their college experience to include stylish student rooms, lounges and workspaces. And, with universities competing for high-achieving, dedicated students, a modern and stylish campus can positively influence a student's decision to attend.
At Blockhouse, we're a contract furniture manufacturer that works with colleges, universities and trade schools to design, manufacture and install contract furniture for higher education that fits any space. When renovating an existing college facility or expanding the university's campus footprint, look for student housing furniture with long-lasting style combined with durability that will last for decades not semesters.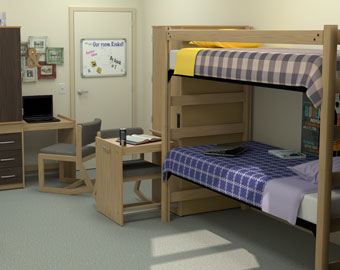 Residence Hall Furniture
A residence hall is a student's home away from home. They want the space to be theirs in a way that fits their style. And you want each piece of furniture to last so that you're not replacing worn pieces year after year. At Blockhouse, we bridge these needs. For instance, students will love the versatility of our newly developed Suite Line, a product family with an open modern design that maintains the durability Blockhouse is known for. And, every piece is customized to each room's specifications for a perfect fit that lasts.
Lounge Furniture
Few spaces see as much activity at a university or college as the residence hall lounge. Common spaces need furniture that will hold up to countless study sessions, card games and intense television watching. When looking for furniture for a residence lounge, features that extend the life of each piece are key. Blockhouse's Key-Loc system allows you to flip or recover a cushion when it becomes worn or stained, for instance, without purchasing an entirely new piece. This helps lounge furniture last longer, giving you a better return on your investment.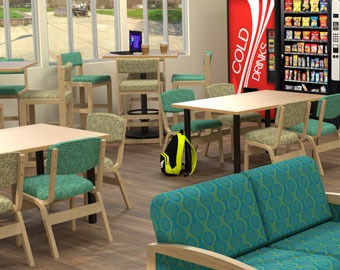 Dining Hall Furniture
Three meals a day, seven days a week. Dining halls endure thousands of students and tons of wear and tear each day. Durability is a must. With Blockhouse's modern furniture options, Universities can keep dining halls and campus cafes stylish and comfortable without sacrificing quality.  Meal after meal, semester after semester, our dining hall furniture holds up for the long haul!
Interested in Learning More?
We can customize, manufacture, deliver and install student housing furniture for your college or university – providing style, comfort and durability that lasts decades. To learn more, contact us today!