Waiting rooms are built in all shapes and sizes. Why should contract furniture be any different? When looking for waiting room furniture, bypass "stock" and skip shopping from a catalog. Instead, find a full-service contract furniture manufacturer that will work with you to help you create functional, durable and beautiful waiting rooms for your guests.
Whether it's a hospital, university, government facility or something else, our customizable, commercial-grade furnishings are a perfect choice. They combine style, comfort and functionality with the durability to last for decades in even the most demanding environments.
If you're looking to furnish a waiting room, there are three main reasons that it makes sense to work with a reputable contract furniture manufacturer instead of choosing something "off-the-shelf."
1.     Design Your Furniture to Fit Any Space
When purchasing custom commercial-grade furniture, your chairs, tables and other pieces are built to order, which means the design possibilities are endless. And, whether your waiting room is large or small, wide or narrow, we'll work with you to create beautiful furniture that fits any room dimensions no matter how unique. From individual chairs to loveseats and sofas, we can help you mix and match pieces for a unique layout that will work best for your specific needs.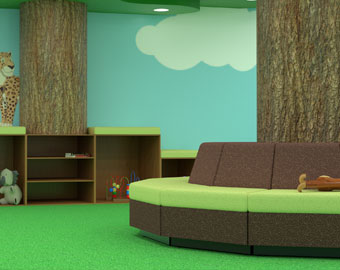 2.     Pair Durability and Comfort with Your Unique Style
Durable, high-quality commercial-grade furniture doesn't have to mean dull design. At Blockhouse, we pride ourselves on the beautiful fabrics, finishes, colors and stains we can offer our customers without sacrificing any bit of quality. We can also bring any design style to life, from classic to modern to minimalist, making your waiting room an accurate representation of your business.
3.     Develop a Custom Floor Plan Design
At Blockhouse, we know design. In addition to creating beautiful, quality contract furniture, our team can help you develop the perfect floor plan for your design using your waiting room's exact dimensions. We have decades of experience working with architects, builders, designers, and customers, and so our team has the knowledge to guide you to the perfect furniture layout for your business.
Ready to Learn More?
Choosing custom is the best way to ensure your waiting room is a perfect fit for you and your customers. To learn more about how Blockhouse can help you design and create quality contract furniture, contact us today.