When shopping for contract furniture, you're doing much more than simply adding tables and chairs to your office space, waiting room, or facility. You're creating a comfortable environment for welcoming guests. A full-service contract furniture manufacturer should not only build furniture to meet your exact specifications, it should also work with you in a variety of ways to create custom solutions for your needs.
At Blockhouse, we offer four areas of service that allow us to create true partnerships with businesses and organizations of all sizes.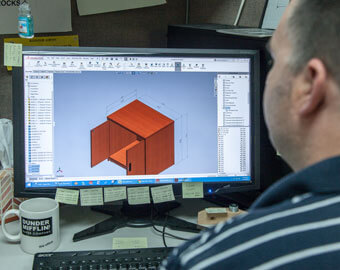 Design
Many furniture manufacturers are simply vendors that hand you a catalog and leave the work up to you. When working with a full-service contract furniture partner, furniture is designed for your space and need. At Blockhouse, our experienced team also works closely to recommend room layouts so your space allows foot traffic to flow naturally. We can help specify pieces that create a stylish look, and provide a variety of fabric and finish options to make your space shine.
Manufacturing
Full-service partners should take the headache out of the process and custom manufacture your pieces quickly and precisely. Our fully in-house manufacturing capabilities mean we control our process to better create beautiful, durable contract furniture for your business or organization. At Blockhouse, our expert craftsmen create your furniture to your exact specifications. And all pieces are checked before leaving our factory to ensure only the highest quality deliveries.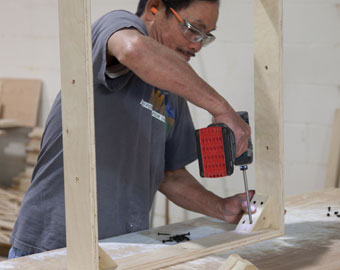 Installation
The process is not complete until every piece of contract furniture is delivered and properly installed. As a full-service partner, our installers are experts at securing furniture in everything from hospital patient rooms to university dining halls and more. Even in critical environments like forensic and psychiatric facilities, we can provide final installation and bolt-down services so that there's one less thing for you to worry about.
Ongoing Solutions
Your furniture partner should provide value every step of the way. From design through to installation, and well after, our partnerships are relationships we build with customers that span decades. That's why we're the first choice contract furniture partner for top organizations across the country.
Interested in Learning More?
To learn more about how Blockhouse can serve as your full-service contract furniture partner, contact us today.