Blockhouse side chairs are built to withstand the toughest of environments. It doesn't matter whether that be a rowdy residence hall, military barracks, or a behavioral healthcare facility. They have to endure whatever hardships may come upon them. That's what our Limited Lifetime Warranty promises. But how?
As a company, Blockhouse Furniture strives for continuous improvement. Rigorous testing is always done to our products to ensure the highest quality and optimum performance. Sometimes, improvement requires new parts or materials. That's why we recently released our new Betula X-chairs.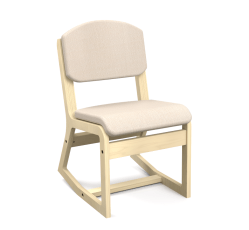 Prior to release, many of our X-chairs (side chairs) were constructed using bent-ply. Bent-ply is plywood that has been manipulated to bend into curves or different shapes and typically has a high-quality outer veneer, with a lower quality wood core. The wood is usually soaked in water to make it flexible, then molded into the desired shape and left to dry. While this method is effective for producing the style you desire, it doesn't promise ideal durability.
In order to form the bent-ply together, it requires glue between each ply and many joints. This isn't the case for our Betula X-chairs. The Betula chairs are simply being cut from one sheet of plywood rather than bent and manipulated. The only joints needed are where the rails meet the end panels, making for a much stronger product.
"Wherever there is a joint, there is the potential for failure," explained Mike Heintzelman, one of our experienced sales reps. "These new chairs' end panels are being cut from a single sheet of plywood rather than pieced together. This means less worry of joint-failure or breakage."
The overall process of creating the chairs has become much simpler, as well. Unlike before, there are now fewer parts. One sheet of plywood comes from one supplier, rather than multiple parts coming in from multiple suppliers. Mike Englar, the Woodshop Team Leader, notes " The chance of receiving incorrect dimensional lumber from a vendor is now virtually zero."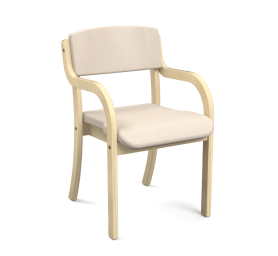 The Betula plywood is ordered in sheets and goes directly on a CNC machine. Once the parts of the frame are cut, a glued mortise and tenon joint is applied where the stretcher rails meet the end panels. Barrel nuts and thru-bolts are also used.
The new X-Chairs also promise a more contemporary style. Some of our newer chairs, such as the X145201 Stackable Arm Chair offer a slender frame with unique curves. These pieces can also be customized using a variety of stain options. However, the natural Betula finish is stunning on its own.
"The Betula plywood has a much more consistent color when compared to Red Oak. The tighter wood grain makes for a smoother finish," says Tim Yeatts, the Finish and Assembly Team Leader. "For those who still prefer the look of Oak, we now offer a Red Oak toner which allows the Betula X-chair to match our infamous Vista case goods."
Stronger, Simpler, and Stylish. The Betula X-Chairs.
Contact us today to learn more or request a quote!