There are numerous contract furniture manufacturers. Several are American made and a variety promise incredible durability too, like Blockhouse Furniture. However, how many can say they offer custom products? Well….Blockhouse can!
While Blockhouse has always offered custom products, there used to be more limitations and the practice wasn't frequent. Since then, management's direction has shifted towards focusing on the overall customer experience. "It's always about the customer. If we can meet their needs, regardless of the size of the project, we do our best to accommodate," Steve Perko, owner of Blockhouse Furniture Co., proudly stated. Now, more custom products are being conceptualized than ever before!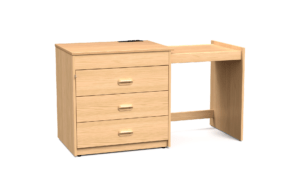 Upon reviewing previous sales from 2017, I've learned that 45% of orders included customized products. Perko estimates that while the custom products only average around 1 to 2% of total sales, not having the option could cost as much as 10-15%. "The willingness to do the tough, small, special stuff is rewarded with orders for regular products," explained Perko. "A customer may order 5 or 6 pieces of the same custom product, but they will usually follow that order with a purchase of several standard products."
Innovation Inspires Change
Besides the incentive of larger sales, custom products also benefit the company by helping influence new product lines. The VISTA series initially was created due to several custom requests. After continuously designing similar custom pieces we noticed a pattern. Behavioral Health facilities, such as Substance Abuse centers, wanted a product with fixed, recessed shelves, sloped tops, and open cubbies. And that's exactly what they got!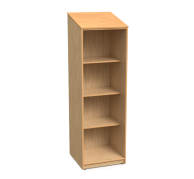 The VISTA series sloped tops prevent contraband from being hidden. Recessed shelves make the product harder to climb and unlike drawers, the open cubbies make it impossible to hide any other forbade items. After discovering more consumer needs, we have also given it the ability to be fastened to walls and floors.
Blockhouse believes in the constant collaboration with our customers. Who better to know their needs than themselves? "It's a great way to grow the business" exclaimed Stephen Perko, Jr. "We aren't questioning what the market might need. We are working directly with them individually. You could do market research or take a designer's recommendations, but just because a designer recommended it doesn't mean it meets every need of the end user. By working with the customer, we aren't just designing furniture. We are addressing a specific issue and creating the necessary solution."
Limitations
There's always going to be some limitations. However, the limitations seem to be unique per product request. For example, we once had a request for a 12-foot butcher block table. Sure we have the materials and the capabilities of making it, but they wanted the table to have no visible supporting rails. After our engineers reviewed the idea, they determined this product wouldn't have the supreme structural integrity or longevity that we standardize on all Blockhouse products.
We chose to turn down the project after the client continued to request no support beams. Pleasing the customer is always the top priority, but we can never forget who we are. Despite there being some limitations, our team is determined to provide the customer with what they desire. Sometimes that means re-purposing products to suit a customer's need.
Worth The Challenge
"It can be challenging to make our products fit the customer's exact request," tells Perko, Jr. "We've had to take a wooden cabinet and make modifications to hold a CPAP device for a Behavioral Health facility. This took constant collaboration with the customer. We had to know everything about the device itself. A lot of time and effort went into the project. It's not just about listening to the customer's idea. We must think it through all the way to the end user".
While Perko, Sr. estimates only 5% of the custom products make it into our standard lines, they have clearly made an impact. Between collaborating with a University to create our 2-in-1 Space Saver Desk/Chest unit, or having the opportunity to develop outdoor patio benches for Sheetz Gas Station/Convenience stores, customization has been certainly worth our while.
Contact us today to learn more – we'd love to hear from you!