Contract Furniture for Government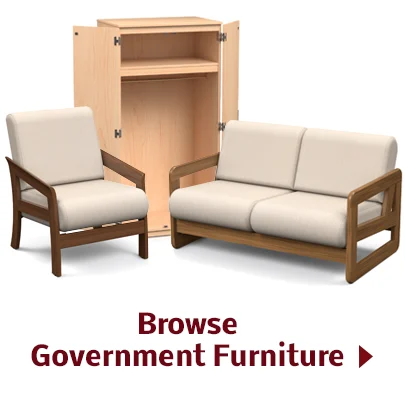 Furniture for Local, State & Federal Applications
At Blockhouse, we're committed to providing maximum value in our purpose-built contract furniture for local, state and federal applications. Our customizable, long-lasting government-focused contract furniture is designed for durability, and that means it will help your organization save money over time.
From lounges to lobbies to dorms, quarters and everything in between, we can help your department lower costs and maximize its furniture investment without compromising style and comfort. Should you require a unique piece to meet your specific requirements, our team is happy to work with you to design, manufacture and install custom contract furniture for your unique application.
Thanks to patented innovations like our Key-Loc system, easy to replace components, and long-lasting materials, our products last for decades, helping to reduce costs over time. With Blockhouse furniture, you can eliminate the need to budget for replacements year after year.
We're an approved government contractor across a range of departments, and our furnishings are currently in use by the military, the National Park Service, the State Department, the Federal Prison System and more. We're proud to offer durable, long-lasting pieces that can stand up to the daily wear-and-tear and heavy use environments in government applications of all shapes and sizes.
Furniture Features
3-in-1 Space-Saving Options
Extreme Durability
Bed Bug Barrier System
Designed for Easy Cleaning
Purpose-Built for Heavy Wear-and-Tear
Easy-to-Replace Components
Key-Loc Cushion System
Familiar, Comfortable, Customizable
And More, Request a Consultation
Furniture Solutions
Furniture for Local Organizations
Furniture for State Agencies
Furniture for Federal Government
Furniture for Lounges
Furniture for Lobbies
Furniture for Patient Rooms
Furniture for Common Areas
Furniture for Staff Quarters
And More, Request a Consultation
Furniture Services
Space Planning & Design
Furniture Specification
Furniture Customization
Furniture Planning & Budgeting
Bulk Manufacturing
Delivery
Installation
Bolt-Down
And More, Request a Consultation
Even better, we're a true partner that will help you throughout all phases of the buying process – from design, to customization, to manufacturing and even installation. We know how the procurement process works, and will go above and beyond to make sure you get the furniture you need as efficiently as possible.
Explore our catalog of contract furniture for government below, and contact us today to to request pricing. We look forward to hearing from you.