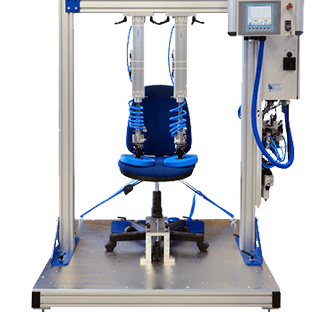 To remain stagnant is often to admit defeat within the business world. Consumer demands are always rising when it comes to custom commercial-grade furniture and Blockhouse is up to the challenge. While efforts have been made towards new aesthetics to please consumers, we haven't forgotten what first made us great – durability. In striving to continue to please customers and maintain our reputation, we must enhance our products' resilience and structural integrity.
Just as Apple is always testing ways to improve, we must as well. Our products are tested in-house and by outside third party companies to ensure their longevity. Several of our markets also set strict standards we must meet. Recently, while testing our updated Ambassador sofa to be GSA compliant, we decided to alter the prototype to see if we could further benefit the customers.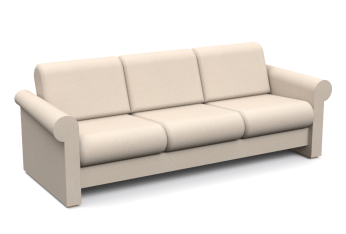 The sofa has always been constructed using OSB. For years, OSB had been praised above plywood. However, after listening to our buyer demands and qualms, we wondered how plywood would fair. Yes, in sheer value the thickness of OSB is far greater than that of plywood, however, the wood can't hold bolts or nails nearly as well.
A prototype was created using an oak plywood frame and webbing rather than springs. We designed the prototype so that webbing will add to the comfort and allow the foam to return to its initial shape after several years. In order to give us more reliable results, and earn GSA approval, we contracted with UL Verification Services to test the sofa prototype.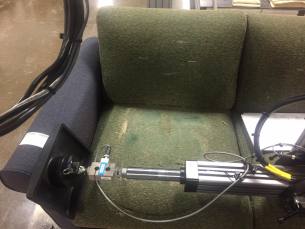 The product is undergoing several tests. These tests were designed to mimic the average daily wear and tear on a much larger scale. Rather than performing static load tests, where weight is slowly applied to the product, machines move in cycles. Weight is pressed upon the object from various angles in a consistent motion. It mimics a person sitting, jumping, or falling on the furniture. As the cycles continue, the weight increases until failure.
"GSA has various codes dictating what regulations the furniture is to meet" explained Brian Kievit, head of purchasing at Blockhouse. "It tests the amount of abuse you can put on these units from up and down, side to side, arms, legs, everything! They want to know how the product will hold up."
As a purchasing agent, it is Kievit's job to validate which tests are required, send out the purchase order with what we want to be tested, and then follow up with the tests.
"It requires a lot of follow up," stated Kievit. "These products undergo several rounds of testing and we have to know if they fail and at what point. We also must understand as to why they failed. Sometimes, a product may break for reasons not directly related to the test. We then have a chance to correct it and continue with the tests."
Tests can range from $3,000-4,000 and last several months. Should a failure occur, our engineers will need to find a solution, thus adding further time to the process. However, if the Ambassador makes it through the last cycle, we will be able to deliver a better quality product that is much more comfortable.
And that, my friends, is simply priceless.
Give us a call today at 1.800.346.1126 or contact us to learn more!