You have lots of choices when it comes to working with a contract furniture manufacturer. Whether you're buying for an expanding hospital, behavioral healthcare center, government facility, student residence hall or any other commercial space, an often-overlooked consideration in the buying process is the quality and value that the furniture manufacturer provides over the long haul.
You may need just a few new professional lobby chairs, or maybe a high-volume set of residence beds. Either way, your contract furniture purchase is an investment that continues after the sale. A reputable contract furniture manufacturer will provide value throughout the life of your furniture so you're taken care of.
But, how do you know if the manufacturer you're considering is going to add that level of value for years to come? At Blockhouse, the commercial furniture we manufacturer and our high level of customer care stand the test of time. Here are a few of the ways we add value and some of the things you can look for as you consider where to buy.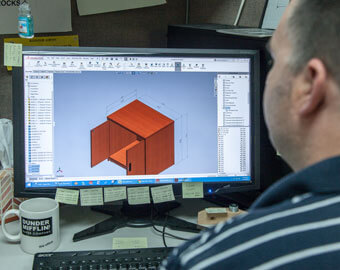 Personalized Room Layout Design Services
Your contract furniture manufacturer should aid you in the design process even before a sale is made. Our team works with customers to develop a smart approach to any room layout, and then outfit that room with the best furniture to create a comfortable space.
Custom Manufacturing to Fit Your Need
Commercial furniture needs the flexibility to be customized to your unique space. When you place a furniture order with us, our team springs into action to build your furniture pieces to your exact specifications. And, our in-house manufacturing capabilities give us complete control over the quality of our products so we know they'll provide maximum long-term value.
Installation
Once your order arrives, the manufacturer should have a team of installers ready to deliver, place and install each piece so your rooms or entire facility are complete and ready for use. At Blockhouse, we'll arrive and install your new furniture per your room layout design, bolt down furniture as needed, and make sure each piece is perfectly placed.
Innovative Solutions so Furniture Will Last
Blockhouse furniture is designed with solutions that make it easy to keep furniture looking clean and like new for decades. Our Key-Loc cushion system, for instance, allows you to flip the cushions so you avoid the need for replacements. And, if you do ever require replacement cushions or any other of our services, we make it easy with quick and knowledgeable customer care team members ready and waiting to help.
A True Partnership You Can Count On
At Blockhouse, we are committed to helping you figure out what's working — and offering you solutions for what's not. We create true partnerships with organizations and businesses of all sizes that span decades, which allows us to create custom solutions for your unique requirements and specifications. From design to manufacturing to installation and beyond, we are the first choice contract furniture partner for top organizations nationwide.
As you consider your next purchase, be sure to choose a contract furniture manufacturer who will be your partner before, during and after the sale. For more information about Blockhouse and all of our services and commercial furniture options, contact us today.