Organizations across the country have gotten back to business over the past few months, but many must continue to adjust to changing state and local guidelines as well as evolving safety best practices. So how can an organization plan for its immediate furniture needs, while retaining flexibility for next year and beyond?
The right contract furniture supplier will help you make furniture choices that offer flexibility to suit your organization now and in the months and years ahead. At Blockhouse, we've been working with colleges, healthcare centers, behavioral health facilities and government organizations for decades. That means we know how to deliver furniture solutions that can adapt to a variety of needs, even including the many requirements brought on by the current coronavirus epidemic.
Read on for a just a few ways you can make purchasing decisions today without worrying about what tomorrow will bring! Contact our experienced designers today to learn more.
Think Individual Seating
With social distancing guidelines determining how many people can use a lobby or lounge at any given time, if you're purchasing furniture today be sure to think in terms of individual seating. Individual chairs of any type give you far more flexibility than sofas, loveseats or rows of interconnected chairs. They're easier to rearrange as requirements evolve, and will often help you maximize available seating capacity even within the constraints of social distancing guidelines. Check out our many chair options for inspiration.
Create Space With Tables & Casegoods
Individual tables can be used in a variety of ways to add space to a room layout. Alternate individual front and back-facing chairs with tables in between to maximize social distancing. Use a row of shelves as a simple barrier to create isolation. Best of all, individual tables, shelves and chairs can be repurposed throughout your organization in the months and years ahead. Browse tables and casegoods to gather ideas.
Consider Modular Options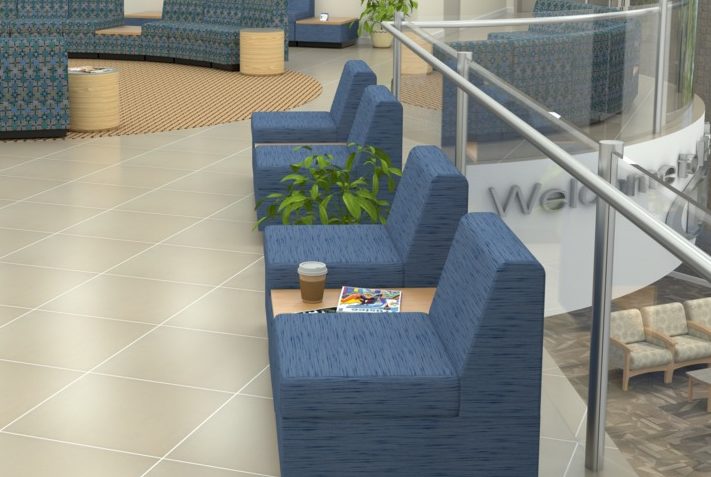 Whatever room or common space you're outfitting, modular furniture gives you the ability to change your layout at any time. To do this, simply remove a few pieces or shift your layout to add spacing, alternate directions, and more. Our Paragon Modular Seating line will give you a variety of ways to mix and match lounge seating to keep guests feeling safe and comfortable. You can create any layout you'd like with different sections of seating to work within your specific space.
Look Ahead To Next Year & Beyond
When buying furniture now, also consider your future needs. The right contract furniture supplier will be able to deliver furniture now that helps you meet the unique requirements of today's environment, as well as additional complementary pieces down the road. So if you find yourself outfitting a lobby, lounge or waiting room during these unusual times, make sure you'll be able to add pieces once your organization gets back to business as usual.
Ready to Talk To The Furniture Flexibility Experts?
Contact us today to talk with one of our team members about your needs. We've helped thousands of designers and facility managers plan for their current needs and beyond, and we're happy to share our experience with you as well. With a wide range of pieces that offer a huge array of options, we've got the expertise and the furniture products to help your organization make the right choices. We look forward to hearing from you!