Purchasing from a contract furniture supplier for your facility is a big investment, and not one you're likely to want to make often. You have a lot of decisions to make and options to consider during the research process.
The manufacturer you choose to work with is as important a decision as the type of furniture you buy.  There is no shortage of contract furniture manufacturers. When you're looking to make a purchase as substantial as furniture for a lobby, waiting room, government building, behavioral health facility, or any other number of commercial spaces, durability needs to be a key factor that manufacturers can deliver on.
The challenge? Every manufacturer claims to offer durable contract furniture for a variety of applications. So, how can you really know if the commercial furniture you're considering will last for years?
At Blockhouse, we believe that durability is king when it comes to quality furniture. So, to help you in your search for quality, durable contract furniture, we've put together our list of the top four things you can look for before you make that next purchase.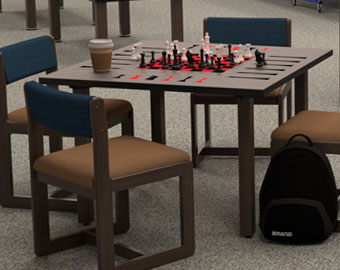 1.     Detailed, Custom Manufacturing Methods
When assessing the construction quality of a manufacturer's furniture, look for an experienced team with knowledge of the latest CNC machines, all in-house. Companies that manufacturer all furniture in-house have several advantages over their competition, including greater control over their supply chain, reducing time and costs, and the ability to customize pieces to fit a customer's need.
At Blockhouse, our experienced and knowledgeable in-house team handles our complete operation – from design through to delivery. When it comes to manufacturing, we have complete control over the quality of our product ensuring it provides maximum long-term value.
2.     Quality Wood Types
The most thought-out furniture design is only as good as the materials it's crafted with. For wood furniture pieces, confirming wood quality is another question to ask every manufacturer you're considering.
At Blockhouse, we source our woods from trusted partners we've been working with for decades. Beyond wood types, we also make sure wood stains and other wood surface applications are of the highest quality, all to make sure the furniture we sell lasts for years and stays looking like new.
3.     Fabric Quality
Like with wood types and finishes, fabric quality is critical if a sofa, chair, or loveseat is going to stand up to the test of time, especially in demanding environments. Be sure you choose a manufacturer who only offers high-performance fabrics. And, if you're purchasing upholstered furniture for high-traffic areas, like student lounges or busy waiting rooms, quality fabrics are a must to keep those pieces looking like new.
At Blockhouse, we use only the highest quality, highest performing fabrics and vinyl's from the most respected and trusted fabric suppliers on the market. When you work with us, we only sell you the highest quality pieces with upholstery that truly lasts.
4.     Innovative Features to Prolong Furniture Life
A quality furniture piece is made up of more than wood and fabric. The best manufacturers design and build their furniture with innovative features aimed at prolonging the life of each furniture piece and solving other similar customer challenges.
At Blockhouse, our customers working in demanding environments found themselves needing to replace cushions long before the furniture base. So, we came up with a solution and our Key-Loc cushion system was born. Key-Loc cushions are reversible and replaceable without the need to replace the entire chair, sofa or loveseat, saving customers time and money.
Learning how to identify quality commercial furniture is key. As you continue your search, contact our team to learn more about Blockhouse and our high-quality furniture that lasts decades. We look forward to helping you with your next project.