Behavioral health facilities have a series of unique needs that other healthcare organizations don't. That's why our design team has spent decades working with behavioral health professionals who understand those needs and created mental health furniture solutions that support their entire facility.
More than furniture for patient rooms, our entire series of Blockhouse behavioral health furniture is psych safe, durable and built with the highest quality materials, with options for every room and space within your facility.
All Blockhouse behavioral health furniture is designed with safety and security for both patients and staff top-of-mind. Our behavioral health furniture pieces include features like:
Psych safe
Ligature-resistant
Difficult to climb
Limits the ability to conceal contraband
And even more safety features
Read below to learn more about the furniture options we offer for behavioral health spaces.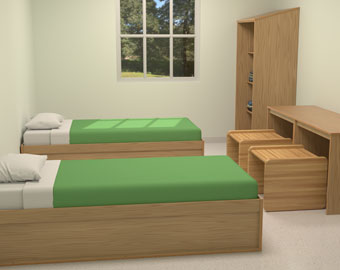 Patient Rooms
Our patient room furniture allows you to create a safe and secure space for your patients that's also comfortable. Our Vista line, for instance, is a line of furniture designed specifically for the needs of behavioral health facility patients and includes wood platform beds with options for side cubbies and restraint slots. Also, nightstands, wardrobes and writing desks, many with lockable doors and sloped tops.
Activity Rooms
When we're designing furniture meant for activity rooms in behavioral health facilities, we focus on furniture that's safe as well as functional and comfortable for small gatherings and groups. We offer round tables with bolt down stools as safe options with rounded wood edges.
Lounges
For lounges, we offer an array of furniture options that can fit a multitude of behavioral health facility needs. We design and build seating options for everything from chairs and loveseats to recliners and chaise lounge chairs. Every lounge seating option is constructed with high-quality materials and customized for your unique need.
Contact us today to learn more about how we're designing and manufacturing safe, durable and comfortable furniture for behavioral health facilities that are helping to keep patients and staff safe. We look forward to working with you.