Seating needs vary greatly from one facility to another. We know that if you're designing a hospital patient room, comfort and cleanliness are your top priority. For an office lobby, however, your need may be more focused on design options and durability.
At Blockhouse, we're a contract furniture manufacturer focused on creating durable, comfortable furniture that will meet your need, no matter how specific, and stay looking like new for decades.
Each piece we design and manufacture serves a specific purpose for a variety of applications. Whether you're designing a student lounge, waiting room, patient room, or any other seating area, we have solutions for every space.
Lounges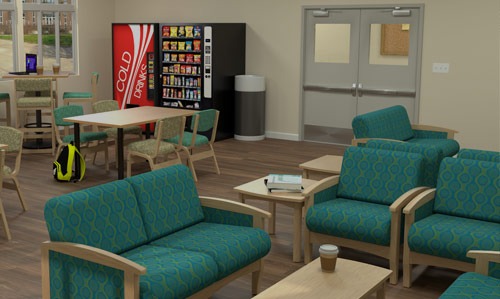 No matter the type of lounge you're designing – whether for student living, healthcare facilities, government buildings, offices, or any other space – we have a seating solution to fit.
When designing contract furniture for student housing, for instance, our team focuses on bringing together durability, comfort, and modern design. Our latest higher education seating line, Astro, was designed for student lounges and other lounge spaces around campus. Astro is highly durable – it'll last semester after semester – and is also modern and stylish to appeal to students.
Our Czar seating line is another practical seating solution for businesses and students alike, with customizable options like a power outlet built right into the arms of the chair so you can plug in and work comfortably for as long as you need.
Waiting Rooms
Waiting rooms, lobbies and other client and patient seating spaces need to give guests a comfortable place to sit and wait. You also need those spaces to be durable so they last. At Blockhouse, we have waiting room seating solutions that accomplish both.
Our commercial seating options include chairs, loveseats, sofas and more that offer you an array of upholstery and wood stain style options. All of our commercial wood seating comes with an antimicrobial top coat inhibiting the growth of bacteria.

Our Betula X-Chairs, for instance, are designed to aid behavioral health facilities and other facilities primarily concerned with patient safety. Betula X-chairs, used in facility waiting rooms, patient lounges, and more, are built with tamper-resistant hardware. This makes them difficult to disassemble without specific tooling and, therefore, potentially less harmful to behavioral health patients.
Patient Rooms
Hospital patient room seating that's easy to clean and stays clean is an absolute must. At Blockhouse, we understand this need and have designed and manufactured all of our healthcare furniture to do just that.
Most of our healthcare furniture includes options like moisture barrier and features an antimicrobial finish to resist the spread of germs for both patients and staff. We also manufacture patient room furniture with the comfort of a family member or guest in mind. When patients stay at a hospital or care center overnight, we offer options like our Oasis Recliner and Ambassador Sofa so family members can remain comfortably by the side of their loved one.

Many of our patient room seating options also include our proprietary Key-Loc reversible foam cushion technology. Key-Loc cushions allow nurses and staff to easily reverse foam cushions to keep furniture looking like new. And, if a cushion does need replacing, you can easily swap in a new cushion without the need to replace the entire chair or sofa, saving you money.
Interested in Learning More?
Whatever your seating need, we have a commercial seating solution to fit any space that will last decades. We'd love to learn about your facility's needs and help you customize the perfect seating space for your facility. Contact us today to speak with our team. We look forward to working with you.